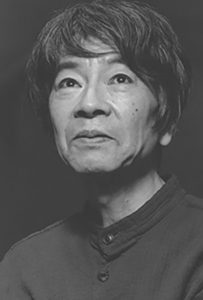 Born in Tokyo in 1933, from the age of three Akira Miyoshi took piano and composition lessons as well as pre-school music classses at Jiyugakuen, a kindergarden, which especially was focussing on children's creative abilities. After entering the primary school, he started studying violin with Kozaburo Hirai.
In 1951 he entered the Department for French Literature of the University of Tokyo. While still continuing his studies, he was awarded the 1st Prize of the 22nd Japan Music Competition for "Sonata" in 1953 and the 3rd Otaka Prize as well as the Bunkacho's Art Festival Incentive Prize for "Concert for Piano and Orchestra" in 1954. Since that time his compositions attracted a lot of attention within the Japanese music scene.
He went to France in 1955 to study composition at the Conservatoire Nationale Superieur de Musique in Paris with Henri Challan, Raymond Gallois Montblanc and also became to be strongly influenced by the works of Henri Dutillieux.
After having returned to Japan in 1957, he continued his studies at the University of Tokyo within different disciplines and graduated in 1960.
From that time, he kept publishing numerous pieces every year, mainly symphonic works, chamber music, songs and many choral works. From 1995 to 1998 he brought out several orchestral works as "Dispresion de l'Ete", "Etoile a Echos", "Fruits de Brume", and "Chansonterminade: Effeuillages des Vague". With "Chansonterminale: Effeuillages des Vague" he was awarded the Otaka Prize for the 6th time.
In March 1999 he was presenting his first opera "Hasekura Tsunenaga Ho>", which became to be a great success and led him to the 31st Suntory Music Award.
From 1974 to 1995 he was the president of Toho Gakuen University, in December 1999 he became a member of the Japan Academy of Arts and in November 2001 he was honoured with the Cultural Merits Award.
Died in Tokyo on 4 October 2013.