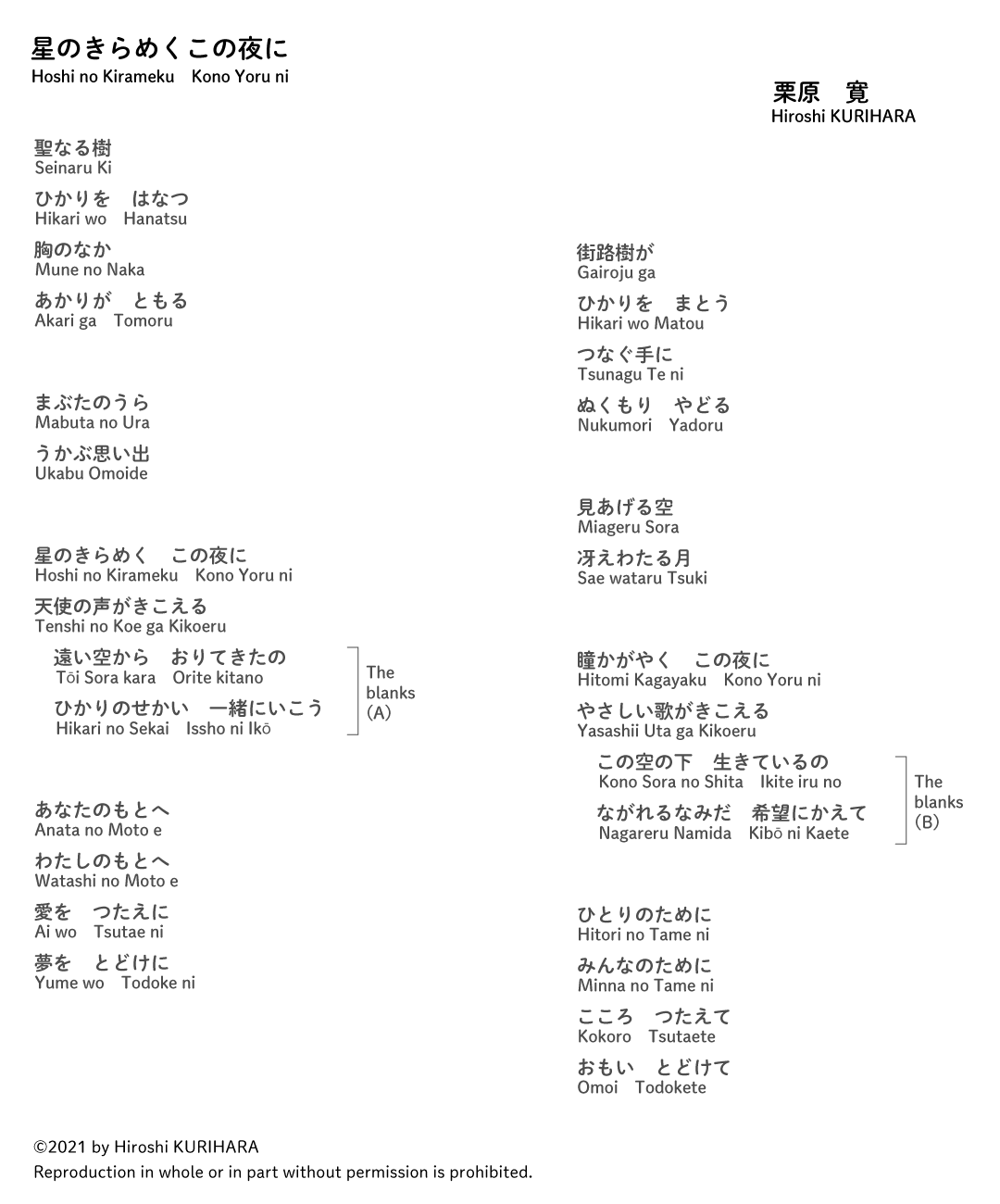 Panamusica is pleased to announce that the lyrics are completed! We are celebrating our 35th anniversary with a publishing project, "Making a Christmas song together". The lyrics of this song has written by a Tanka poet, Hiroshi KURIHARA. We were taking applications of lyrics for the purposely made empty spaces to fill out the words. From many applied lyrics, 2 applicants were chosen, and the lyrics have finally completed.

Successively, application for melody has begun this time. We are waiting for your melody not only by music score but with your audio file as well! Chosen melody will be arranged to a chorus song by a composer, Tatsuya TANAKA.

We will be waiting for your wonderful melodies that wide range of generations, from children to adults desire to sing!
Here is the link of the poet's & the arranger's messages and the completed lyrics in English.
Application period
11:59 p.m. April 15th 2022 (Japan Standard Time)
Results
Will be announced in beginning of May, 2022 on this website
About the application work
・It has to be only an original self-made unpublished work and not in under other intellectual property rights (copyrights) that doesn't infringe them. Any arranged work (parody)can not be applied.

・Send us your music score with PDF and recorded file with WAVE, mp3, mp4/m4a or AAC.
・Applying data should be less than 2GB including your score and audio file.

・As far as possible, please set your song (melody) to each lyrics.
・Do not write your name on the score.

・When applying with audio file, please note the following below:
 *You can play with any performing sounds. (For example, types of instruments, electric sounds, and etc. )
 *If your applying melody is not by singing the lyrics, please describe and notice where the lyrics belong to the melody. In that case, apply your both sound source and the melody score with lyrics, if possible.
Notice
・The chorus arrangement, the melody and rhythm may be modified by looking at the overall balance of music.
・Those who have adopted the work will conclude a copyright agreement with Panamusica at the time of publication.
・We pledge that any personal information we receive from applicants will be used ONLY for the purpose of this project and will be under the strict management.
How to enter
Please send your information below to 35th_pmp@panamusica.co.jp
・Your name
・Your email address
・Your email title should be "Apply for the project."
・We cannot accept scores by email.
We will inform you where to upload your data of the applying work in the reply email from us.
Will be using Dropbox file request function to upload your data. Applicants will be no need to create Dropbox account.
After uploading your work to Dropbox, please write the same name and your email address that you have already sent us when entering this project.