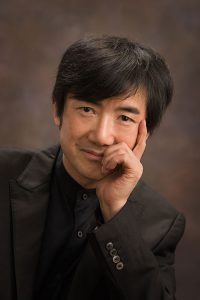 Graduated Tokyo National University of fine Arts and Music.
Awarded and honorable mention : Japan Music Competition, Premio Citta di Trieste (Italy), Carl Maria von Weber Preis (Germany), Guido d'Arezzo Concorso (Italy), and so on.
His music, written in varieties up to now, is mainly based on Japanese classical literatures, traditional art forms and Asian thought or religions. For example, choral music SHO-GA by Solmization used with the Japanese traditional instruments, ORASHO (Oratio) by Japanese medieval Christian texts and Latin sacred songs, Maria Orientalis songs in praise of MARIA-KANNON (Virgin Mary), crossing over the border of eastern and western world of prayers, and Rhapsody in CHIKAMATSU by JORURI texts and ""Ehjanaika"" dance (historical crazy-joyful dance).
His music are published from ZEN-ON Music, edition KAWAI and Pana Musica.