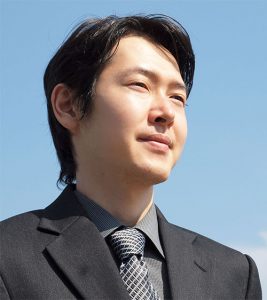 Kentaro Sato (1981- ), Ken-P to his friends, is an award-winning composer, conductor. His musical works have been featured in TV/Film media, game industry and concert performing groups around the world such as the London Symphony Orchestra, the Philharmonia Orchestra and the Sydney Symphony Orchestra.
 In the choral music world, Sato is best known as the winner of the prestigious ACDA Raymond W. Brock Memorial Composition Contest for "Kyrie" from Missa pro Pace (Mass for Peace), which was premiered at the 2005 ACDA National Convention in Los Angeles. He is also a frequent guest conductor and lecturer for various choral workshops and reading sessions around the world.
 Sato was born in Hamamatsu, Japan, a manufacturing city known for musical instruments. He received a Master of Music in Conducting with Distinction and a Bachelor of Music in Media Writing from California State University, Northridge. In addition to his music degrees, he holds degree in Cinema from Santa Monica College.