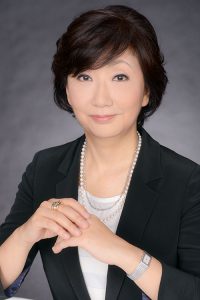 Born in 1956 in Tokyo, Japan. KINOSHITA Makiko graduated from Tokyo National University of Fine Arts, Composition Department and completed its graduate school also. Her composition, an orchestra piece "Koten" was performed at the graduation concert as one of the most outstanding graduation pieces. Awarded the prize with "Fantasy" at the Music Competition of Japan, composition division for orchestra piece, and also "Aura for Orchestra" was chosen as Outstanding Composition by the Japan Symphony Foundation Award. In 2003, awarded by Mitsubishi Trust Art and Cultural Foundation with the opera "Alice's Adventures in Wonderland" commissioned in commemoration of 20th anniversary of the Mozart Theatre. She is a member of the Japan Society for contemporary Music.
Her chief works include: "Alice's Adventures in Wonderland" (Opera), "The Breathing Earth" (for orchestra), "Piano Concerto" (for Piano & Orchestra), "Gothic" (for wind band), "Another World" (for Vn. Va. Vc & Piano), "The Trembling Moon" (for Percussion ensemble), "Twisting Landscapes" (for Clarinet, Violin and Piano), "A Circuit of Dreams" (for Piano), "Jashumon-Hikyoku" "Haratai Kenbairen" (for mixed voices and orchestra), "Blue" (for female voices and percussion), "Nirvana" (vocal & piano), etc.
Kinoshita has about 100 publications, as well as CD's, such as "The Trembling Moon", (chamber music / ALM Records), "Jashumon-Hikyoku" (chorus and orchestra / Fontec), "Blessing"(chorus without accompaniment / Japan Traditional Cultures Foundation), "Tsuyoshi Mihara Sings Makiko Kinoshita" (lied album / Fontec), and many others.
Official web-site to access is :
http://www.m-kinoshita.com/