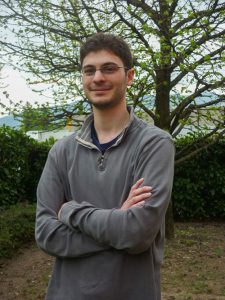 Born in 1988, De Giacometti began learning piano at the 'F. Sandi' Music School in Feltre (Italy). In 2004 he enrolled at the Conservatoire 'Agostino Steffani' in Castelfranco Veneto (Italy) to study composition with Mario Pagotto and Nicola Straffelini and he graduated with honours in 2013.

His talent has been acknowledged in many national and international competitions such as 1st Prize at Japan International Choral Composition Competition (Tokyo 2015); Finalist at the 1st International Jean Sibelius Composition Competition (Hämeenlina – Finland 2015); 1st Prize (junior category) and two 'Special Prizes' for the best traditional sacred vocal music and for the best tonal music at the 3rd 'Antonín Dvořák Composition competition' (Prague 2012); 3rd Prize at the International Composition Competition 'Guido d'Arezzo' (Arezzo 2012); 1st Prize at the Premio Nazionale delle Arti (Trento 2010) and a mention at the International Composition Competition 'Il colore dei Suoni' (Florence 2008). Furthermore, he won the 'Davide Zambon' memorial scholarship at the Conservatoire 'A. Steffani' of Castelfranco Veneto (Treviso 2011) and he received a prize from the 'Lion's Club' of Feltre (Belluno 2009). In March 2013 his hometown municipality organized a monographic concert for celebrating his national and international successes.

Many of his pieces have been commissioned and performed both in Italy and abroad in concerts, festivals and contemporary music competitions, among which should be mentioned the 3rd International Anton Bruckner Choir Competiton & Festival in the New Cathedral (Linz, Austria); the A.S.A.C. Festival of Choral Singing; the 'Mondi Sonori' Festival in Trento; 'Italianisches Kulturinstitut Wien'; The Prague Conservatory Concert Hall (The Karlovy Vary Symphony Orchestra, 2014).
One of his choral pieces has been selected for being performed by the Choral Arts Initiative (CA, USA). Moreover, his piece 'In memoriam' has been chosen and will be performed by the Sydney Contemporary Orchestra.

He took part in 'L'Incendiario Elettrico', a futuristic music performance held at the Academic Theatre in Castelfranco Veneto as part of the Erasmus Summer School of New Music project (2009). He has also been commissioned to arrange and transcribe several compositions, among which: Orchestral arrangement of Gianmartino Durighello's Gaudens gaudebo; Six-hand piano transcription of Anton Webern's Passacaglia op. 1 for the International Festival in Portogruaro; Orchestral arrangement of Dmitrij Shostakovich's Waltz from Suite n. 1 op. 38 for 'Santa Cecilia' Youth Orchestra in Portogruaro; Orchestral arrangement of Sergej Prokofiev's March from The Love of three oranges for 'Santa Cecilia' Youth Orchestra in Portogruaro (Italy 2008) and many more.

He has been published by Pana Musica (Kyoto, Japan 2015); 'Cantar Storie', Edizioni Grossi (Domodossola, Italy 2015); 'Contemporaneamente', Edizioni Pro-Loco Zumellese (Italy 2011); 'l'Offerta Musicale', Edizioni Carrara (Bergamo, Italy 2008).

He attended several master classes in composition with international musicians: David Lang, Fabrizio De Rossi Re, Gullermo Gaviria, Edson Zampronha, Claudio Scannavini, Valerio Murat, Luca Francesconi and Roberto Calabretto.

Since 2009 he has been the Director of the Schola Cantorum in Pedavena.
He is due to start a Master in Conducting at the Royal Conservatoire of Scotland in September 2015.