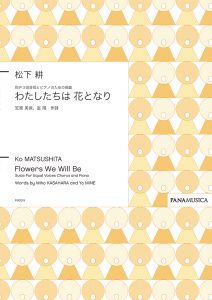 | | |
| --- | --- |
| ISBN | 9784866040936 |
| Format | A4 48page |
| Price | 1,760 JPY |
Composer
MATSUSHITA, Ko

→ Profile



Arranger
Author of the text
Text arranger
Type of Choir
Female Chorus
Tonality
Number of Voice Parts
3
Voicing
SSA
Language 1
Japanese
Language 2
Roman
Accompaniment
Piano
Duration
13'30"
This is commissioned work of the Little Singers of TAKARAZUK A and Yo MINE, who has close relationship with the choir. Yo MINE has written 2 compilations from his poems and Miho KAS AHARA, a conductor of the choir, wrote another 2 compilation s, so that the total of 4 songs are made into a suite with p iano accompaniment.Born during within both before and after the disaster of Great East Japan Earthquake by 2 poets and a composer. All 4 songs have a message to children who are li ving towards the future. We hope these songs that are compos ed for the children around the world will be popular by many choirs and "Big circle of earth will be surrounded by lov e" someday.